>> 机组主要技术参数 Main Specifications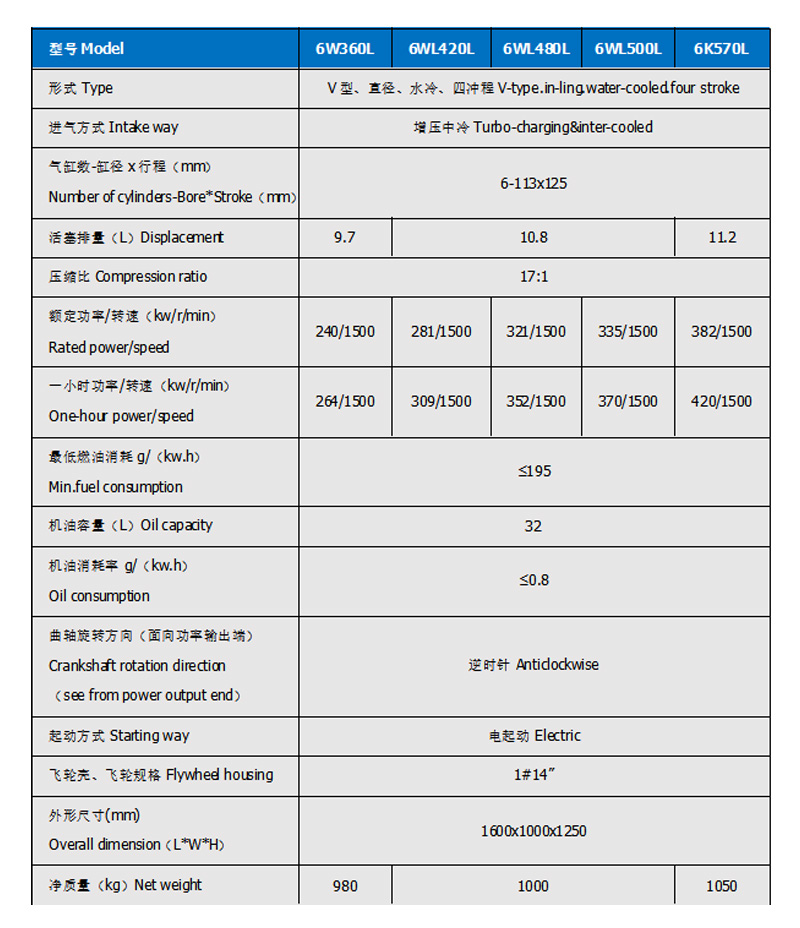 >> 机型特点 Engine Features
1.该系列柴油机是在斯太尔柴油机平台上优化设计开发的产品。其具有极佳的耐久性和可靠性而受到全球用户的欢迎。
2.气缸体、曲轴、连杆、活塞等重要部件进行了强化设计,刚性大、变形小、可靠性高。
3.采用中置增压器、优化管路设计,结构紧凑,进排气效率高。
4.采用P8500或PZ型喷油泵、提高供油压力,配合先进的多孔低惯量喷油器,燃烧雾化更细致;优化燃烧室,混合更充分,油耗更低。
5.零部件通用性高,市场配件充足,维修方便。
1.The diesel engine series was developed on the Setra diesel engine platform. Its excellent durability and reliability by the global user's welcome.
2.Cylinder Block, crankshaft, connecting Rod, Piston and other important parts of the strengthened design, rigid, small deformation, high reliability.
3.The utility model adopts a central supercharger and optimizes the pipeline design, and has the advantages of compact structure and high inlet and exhaust efficiency.
4.Adopt P8500 or PZ type fuel injection pump, increase fuel supply pressure, cooperate with advanced porous low inertia fuel injector, combustion atomization is more delicate, optimize combustion chamber, mix more fully, fuel consumption is lower.
5.High versatility of parts, sufficient market accessories, easy maintenance.